Our History
Quality Transportation Dedicated to Service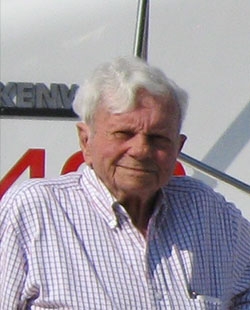 On August 15,1945 our nation rejoiced as World War II had finally reached its end. One Merchant Marine, named Walter Poole, left for his small hometown of Castleberry, AL. to pursue the "Great American Dream". No one could imagine the impact this young man would have on the transportation industry, and on so many individuals. Poole was very frugal during his tenure as a marine. He sent a portion of his earnings to his parents, and saved the rest to make his first used tractor purchase. Poole formed a friendship with an Evergreen, AL. cotton broker, Bob Kendall. This friendship led to a business relationship, and in 1946 Poole Truck Line was born. His first contract with Kendall was completed with a simple handshake. Poole hauled cotton from Evergreen to Opelika, AL. during his first year of business. He later added another driver, and then a 2nd and 3rd. As the business grew, Poole continued to remain fully engaged in every aspect of the business. For 38 years, Poole operated a profitable and efficient transportation company.
In 1984 Poole Truck Line was sold to International Utilities, which is now a part of Schneider National. When Poole decided to sell the company he had amassed 800 tractors and 1500 trailers, with annual revenue of $75 million. One thing became clear very quickly to Poole, retirement was boring. Poole with his son, Patrick, began Evergreen Transportation in 1988. The new business accelerated rapidly, due to the past customer base that he had established while he owned Poole Truck Line. Due to his reputation and impeccable service record, the customers were excited to have Evergreen as their carrier. One of the major contributors to Evergreen's rapid growth was its diversification of fleet divisions. Evergreen operated 5 fleet divisions: bulk, flatbed, van, solid waste, and liquid. The corporate office was constructed in Evergreen, AL, and the fleet divisions were operated from terminals located in Calera, AL., Courtland, AL., Mobile, AL., Cantonment, FL., Douglasville, GA., as well as corporate. Evergreen Transportation achieved the same success that Poole Truck Line did, except in about half the time.
After ten years, with much discussion and thought, the Poole family decided to sell the company. During his second tenure in the transportation business, Walter Poole had amassed over 400 tractors and 800 trailers at Evergreen. In June of 1994, Evergreen was sold to Marquis Holdings LLC, A Virginia limited Liability Company. The new owners were aware of the history and success of Poole, so they elected to make very few changes. Mr. Walter Poole became Chairman Emeritus and consultant, and Pat Poole remained President. In 2005 Pat retired, and David Wildberger was promoted to president. David had worked at Evergreen since its inception, and was Vice President at that time.
In September 2008, both Walter Poole and David Wildberger resigned from Evergreen Transportation. And in April, 2009, David Wildberger and Walter Poole were approached by the controlling stockholder of Evergreen Transportation to inquire if they were interested in purchasing Evergreen Transportation, Inc. back. Of course, there was interest, and negotiations were shortly underway.
On January 14, 2010, there was an asset purchase made by Walter Poole, David Wildberger, and 4 other investors. A new entity was formed under the name of Evergreen Transport, LLC. By making an asset purchase, it allowed the purchase of certain Evergreen Transportation, Inc. terminals, rolling stock, and inventory. Most importantly, it salvaged the jobs for most of the Evergreen Transportation employees. It is the third company formed by Mr. Walter Poole. His previous two companies were extremely successful, so it appears that Evergreen Transport, LLC has a bright future. Poole has proven to be a true icon in the transportation industry. The combined experience between the investors is well over 100 years in the transportation business!
On February 1st, 2018 Mr. Walter Poole died at the age of 92. He had an amazing work ethic that was inspirational to all of his employees- past, present, and future! He worked half days until he was 90 years old. After that, he would regularly check on the business by phone. Mr. Poole is missed by all who knew him, and will always be considered a pioneer in the transportation industry.
Our Team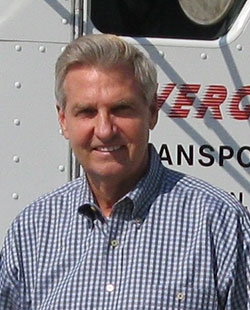 David Wildberger
President
Ronnie Kent
Vice President of Operations
Sharon Cook
Vice President of Human Resources